The new Ram 1500 TRX is a monster beyond comparison. Every tap of the gas is like detonating a bomb, and as the shockwave blasts you up to speed and powers ahead of the competition. The Ram 1500 TRX keeps its pace over any terrain, taking on dunes and dirt trails with full control and without mercy for those who try to keep up. But when things have calmed down, and the supercharger scream chills out, a smooth and luxurious ride awaits.
The new Ram 1500 TRX gets even better. It can haul more than tail, thanks to the mighty towing strength you expect from a Ram truck. With innovative tech to back the peerless pickup-truck power and safety features, a new Ram 1500 TRX for sale is a no-compromise thriller. Contact our San Antonio Ram dealership today to order yours.
Brace for the Ram TRX for Sale in San Antonio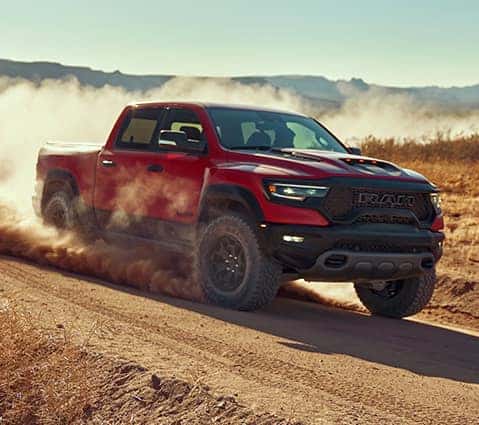 Buckle up – the new Ram 1500 TRX is not for the faint of heart. After all, "TRX" means "Tyrannosaurus Rex," the king of the dinosaurs. You could stop there and get the picture, but when you find the source of its trademark scream, things only get more heart-pounding. Specifically, every new Ram 1500 TRX spits fire with a 6.2-liter supercharged HEMI V-8 engine, making a downright irrational 702 horsepower and 650 pound-feet of torque.
And that's because the new Ram 1500 TRX isn't about rationality. Nobody needs their full-size pickup truck to accelerate from 0 to 60 mph in 4.5 seconds, but the Ram 1500 TRX goes that fast because it can and because it's a smile-inducing thrill like none other. The supercharger makes a vicious noise, and with its instant torque-boosting powers, it sends you back into your seat with an impressive blast.
That 0-to-60-mph time happens on the road, but what happens when you take your new Ram 1500 TRX off the beaten path? Even more fun.
This super truck is the only one in the world to have Bilstein Black Hawk e2 shocks, handling the weight shift on launch to get the power down with full effectiveness. As you hit rough terrain, they soak it up to keep things stable and in full command. Thirteen inches of front travel, 14 inches of rear travel, and 11.8 inches of ground clearance make the new Ram 1500 TRX capable in any driving condition.
But there's much more. Right out of the factory, the Ram 1500 TRX has standard 35-inch Goodyear® Wrangler Territory all-terrain tires wrapped around 18-inch beadlock-capable alloy wheels. Eight driving modes come standard, too, for any performance-oriented situation. And, of course, it's a pickup truck, so towing strength is a must. That's why the 2023 Ram 1500 TRX can tow up to 8,100 pounds.1
With standard four-wheel drive and a rapid-fire manually shiftable eight-speed automatic transmission, the Ram 1500 TRX is ready to rumble.
Step Inside and Behold the New Ram 1500 TRX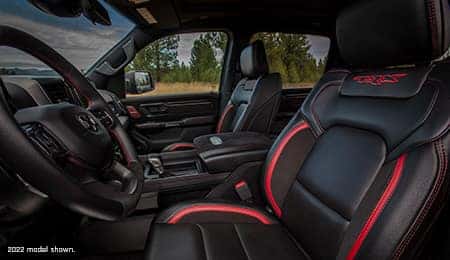 A new Dodge Ram 1500 TRX for sale is awesome under the skin and inside the cabin. Take a look at the Ram 1500 lineup in our selection of new vehicles for sale. Discover the high-end optional features you love; the Ram 1500 TRX likely has them as standard.
Among the standard interior features, the new Ram 1500 TRX provides a crisp and clear 12-inch Uconnect 5C NAV touch screen with off-road and performance pages and dual-phone connectivity, a 12-inch digital cluster display, a 10-speaker performance sound system, a flat-bottom performance steering wheel with aluminum paddle shifters, an eight-way power driver's seat featuring four-way power lumbar support, dual-zone climate control, and much more.
And if you want to add more on top of the already-immense standard package, you'll find plenty of astounding luxuries for your new Ram 1500 TRX. Tailor the seats with available heating and ventilation and materials like Alcantara and carbon fiber, and give your rear passengers seat heating. Add a Harman Kardon® 19-speaker sound system, bring on advanced safety features like Adaptive Cruise Control with Stop and Go, and ride in true luxury.
With a new Ram 1500 TRX, the only limits are your dreams.
Order Your New Ram 1500 TRX in San Antonio, TX

The new Ram 1500 TRX is an unparalleled experience, and ordering yours with us is an equal thrill. Contact San Antonio CDJR today to check our current inventory or get started with your Ram 1500 TRX order.
And for any other of your Ram truck needs, we can help. Explore our new Ram 2500 and new Ram 3500 inventory for heavy-duty excellence, and swing by to test-drive your favorite new Ram truck.
Frequently Asked Questions
Is there going to be a 2023 TRX Ram?
The highly anticipated 2023 Ram TRX is officially here, following up on the promise of the 2023 Ram 1500 redesign with awe-inspiring power. Offering a mighty 702 horsepower and 650 pound-feet of torque on top of a one-of-a-kind performance suspension system, the 2023 new Ram TRX is ready to rumble at work and on the weekends.
How much will a Ram TRX cost?
The Ram TRX cost varies depending on the options you select as you go through the trims and desired features, but at the base level, the new Ram 1500 TRX has a starting price of $83,890 MSRP.2 Contact San Antonio CDJR to configure and order your new Ram TRX, then let the excitement of anticipation begin.
How many MPG does a TRX get?
The new Ram 1500 TRX delivers an EPA-estimated 10/14/12 MPG (city/highway/combined),3 which is surprisingly high when you consider that the Ram 1500 TRX is the most powerful production pickup truck in its class with its astounding 702 horsepower and 650 pound-feet of torque at your command. Your wallet will thank you.