Ram 1500 REV Electric Truck Release Date

Electric vehicles are revolutionizing the way we drive. As more and more vehicle types take the bold step into a future that no longer relies on fossil fuels, everyone from small business owners and construction professionals to driving enthusiasts and active families are wondering how the greatest pickup trucks in America will respond. The iconic Ram pickup has a thrilling answer on the way: the Ram 1500 REV Electric Truck.
The Bold New All-Electric Ram Truck
Drivers waiting for an electric truck that blends efficiency with premium power and towing capability will soon find that their wait is over: The dynamic new 2025 Ram 1500 REV electric truck is muscular, stylish, and filled with cutting-edge technology. The vehicle is still a Ram pickup truck, boasting the aesthetic and iconic performance that Americans have been in love with for decades, but it does not use a drop of gasoline.
The whole team here at San Antonio Chrysler Dodge Jeep Ram is excited about the release of this vehicle in late 2024. We have assembled all the currently available information on the Ram electric truck price, specs, driving range, features, and more to help you decide if this is the right vehicle for you, your family, and your work.
Ram 1500 REV Electric Truck Specs
Drivers will be able to choose from two battery packs when designing a new Ram Revolution electric truck. The entry-level 168-kWh battery comes with a pair of motors, with one mounted to each axle. This configuration is also found with the larger 229-kWh battery pack; all-wheel drive is a standard feature on the new Ram 1500 REV electric truck. The larger battery pack is designed to allow you to drive a bit farther on a single charge, making it a great choice for folks who use their vehicle to run their small business, for example.
When properly equipped, the 2025 Ram 1500 REV will be able to tow up to 14,000 pounds. Ram has not yet told us which battery pack will be capable of this towing capacity; if we had to guess, we'd say it's the larger one, but time will tell for sure. The vehicle boasts a maximum available horsepower of 654 and torque of 620 pound-feet, awe-inspiring numbers that will allow you to soar down the road in this bold electric truck.
We do not yet know what the MPGe figures are expected for the Ram 1500 REV electric truck, but they will certainly be impressive. What we have learned, however, is that the 168-kWh battery is slated to be able to go up to 350 miles on a single charge, while the larger 229-kWh configuration has an expected range of 500 miles.1 The new Ram electric vehicle will pair impressive muscle with efficiency, allowing drivers to crush it on the job site without spending a fortune at the pump.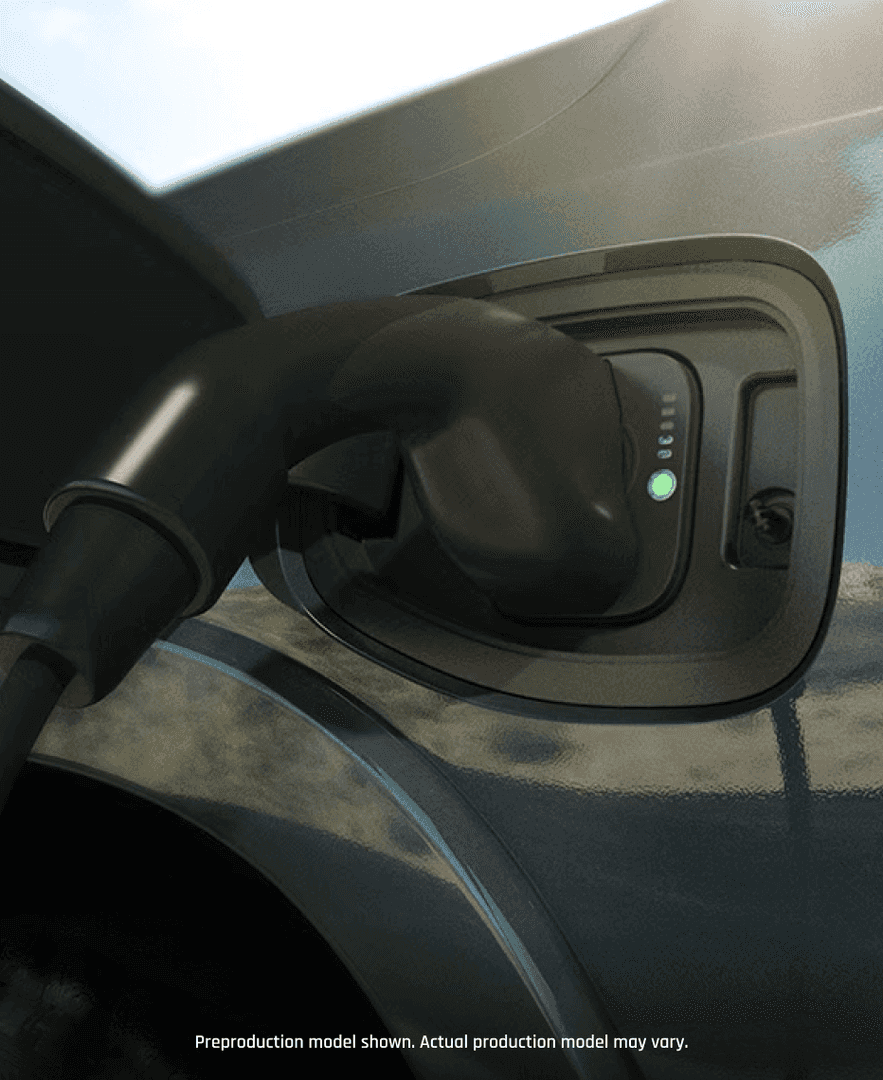 Ram 1500 REV Electric Truck Interior
The cabin of the new Ram 1500 REV promises to be just as impressive as the Ram electric truck range and specs. The truck comes standard with a touch screen for controlling music and navigation. You can also opt to equip the vehicle with a passenger's side touch screen, allowing your co-pilot easy access to music and navigation controls. The Ram 1500 REV electric truck will come standard with the ability to charge small appliances and devices, making it the perfect tailgate vehicle.
While we don't yet know the trim lineup for the 2025 Ram 1500 REV, we have seen that the mid- and upper-tier trims will be equipped with impressive luxuries. You can get massaging front seats, a 23-speaker sound system, and more. The exact lineup of available features has not yet been made public, but we won't be surprised if you can get leather upholstery and two- or even four-zone climate control.
Ram Insider+
You can stay informed about the new Ram 1500 REV electric truck by signing up for the Ram REV Insider+ program. For a refundable2 $100 membership fee, you'll have early access to information about the vehicle and even to the forthcoming Ram electric truck reservation queue. You'll also get information about the future of electrified Ram vehicles – while the 2025 Ram 1500 REV will be the first, it will not be the last.
We hope that you're as excited about this bold new vehicle as we are. The new Ram 1500 REV promises to be muscular enough to handle tough jobs while still offering drivers savings on gasoline. It is also going to come with state-of-the-art technology, including the standard touch screen and advanced safety features. Contact us today to sign up to hear the latest news about the Ram 1500 REV.
Ram 1500 REV Electric Truck Release Date
The first Ram 1500 REV electric trucks will reach customers in the fourth quarter of 2024, according to Ram. The company has not yet told us precisely when we should expect pre-orders to open, but our team suspects that this will occur by the end of the first quarter of 2024. We also don't yet have detailed information about the truck's price. If you want to be kept in the loop, please let us know – we can help you place your 2025 Ram 1500 REV pre-order when the time comes.
The Ram 1500 REV electric truck promises to be a muscular and dynamic new step for Ram. The vehicle pairs an incredible maximum towing capacity of 14,000 pounds when properly equipped with a fantastic all-electric driving range and a sleek style. When you shop with us, our finance team will work hard to try and secure you the low-rate financing plan you deserve. Reach out to us today to discuss the forthcoming Ram 1500 REV electric truck.
FAQ
When can I order a Ram electric truck?
Ram has not yet told us when proper pre-orders for the Ram 1500 REV electric truck will open to the public. As of now, you can join Ram Insider+ to reserve your spot in line to order the vehicle, but this is not a full-on reservation. Our team expects that the pre-orders for this bold new electric truck will begin in late 2023 or early 2024.
When will the Ram 1500 REV Electric Truck be available?
The Ram 1500 REV will first reach drivers in the fourth quarter of 2024, according to Ram. You cannot yet place an official pre-order for the vehicle, though you can sign up to stay in the loop about this bold new electric truck. We are excited about this vehicle, which promises to blend muscle and performance with a comfortable interior and an end to reliance on gasoline.
---
1Based on manufacturer internal simulation data. Actual mileage may vary.
2Join fees are refundable up until you are notified that the Ram 1500 REV becomes available for early access pre-order communicated by Ram.