Jeep Gladiator Mojave Comprehensive Review


Shop New Jeep Gladiator
Thriving in the most unforgiving conditions is a hallmark of Jeep brand vehicles, and for isolated desert destinations, the Jeep Gladiator Mojave trim is ready to rock. This special trim is like a sand-dune-blasting brother to the rock-crawling Rubicon trim, exclusive to the Gladiator truck and exclusively overhauled with the best parts for the job.
From a reinforced frame and a locking differential to desert-tuned suspension with FOX™ shocks, the Jeep Gladiator Mojave trim will make your Baja 1000 fantasies a reality. Learn more below and visit San Antonio CDJR to take your next Jeep Gladiator out on a test drive.
2023 Jeep Gladiator Mojave: Desert Rated Upgrades
Jeep vehicles that wear the Trail Rated badge are proven performers over almost every kind of terrain, including mud, dirt, snow, rocks, untamed forest floors, and even rivers.
But what about the desert? Whether Chihuahuan or Mojave, Jeep Gladiator trucks in the Mojave trim prove their power over the conditions you'll encounter out on the dunes, earning the first-ever Jeep Desert Rated badge.
First, high-speed terrain deviations. When you're blasting through Baja, your suspension takes a beating. The Jeep Gladiator Mojave trim has a specially tuned suspension designed to soak up bumps, featuring 2.5-inch internal bypass FOX™ shocks to keep you comfortable and your truck stable as you hit the dunes. More impressively, these shocks come with external reservoirs to mitigate the typical suspension overheating issues caused by the hot desert sun.
And for the front suspension, an effective secondary set of shocks called hydraulic jounce bumpers prevents the jarring metal-on-metal slam if you bottom out. But desert blasts can't even begin without grip. The coarse sand is sent flying by your tires, and this scattering effect can make getting traction a serious challenge. That's why the Jeep Gladiator Mojave trim comes standard with 33-inch all-terrain tires and complements them with fender flares for a proper fit and increased articulation capabilities.
To stay stable at speed on side-to-side inclines, the Jeep Gladiator Mojave trim also features a 64.9-inch front and rear track – most other trims have a 62.9-inch track. Directly in front of the widened track, a beefy skid plate protects the engine and cooling system, while frame reinforcements do their duty to handle the stress of desert joyrides.
The standard, factory-equipped Jeep Gladiator Mojave lift kit raises the front end up by an inch, and a rear Tru-Lok electronic locking differential helps prevent traction loss as you put that raised ride height to work.
With standard 8.4-inch touch-screen infotainment, a nine-speaker sound system, premium cloth seat upholstery, dual-zone auto climate control, rock rails, 4×4 power, a faster 4:1 low-gear ratio, front brakes acting as a locking differential, and so much more, the Gladiator Mojave is a formidable option in our new Jeep Gladiator specials.
---
Jeep Gladiator Mojave Towing Capacity & Performance
The Jeep Gladiator Mojave trim comes standard with a six-speed manual transmission. However, it has a higher standard towing capacity compared to other stick-shift Gladiator trucks. Specifically, the standard Jeep Gladiator towing capacity with a six-speed manual transmission is 4,000 pounds,1 while the Gladiator Mojave has a standard towing capacity of 4,500 pounds.1
As for under-hood power, you get the venerable 3.6-liter Pentastar V-6 engine with 285 horsepower and 260 pound-feet of torque as standard.

---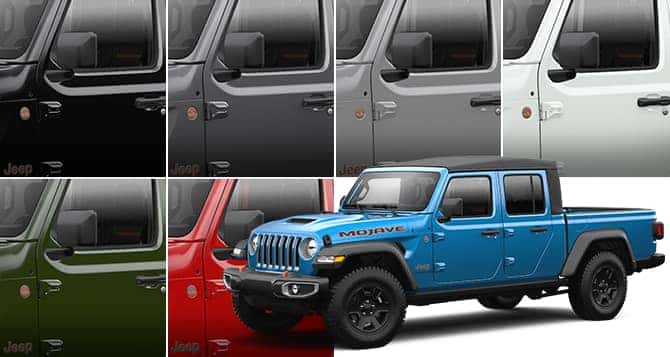 Jeep Gladiator Mojave Colors
Like the rest of our new Jeep Gladiator inventory, the Mojave trim offers plentiful customization options. You'll find the following paint colors:
Black
Granite Crystal Metallic
Sting-Gray
Silver Zynith
Bright White
Sarge Green
High Velocity
Firecracker Red
Hydro Blue
Plus, the Jeep Gladiator Mojave trim includes special Mojave graphics and Desert Rated badging to let other drivers know you're in a dune-dominating truck.
---
Jeep Gladiator Mojave Dimensions
Aside from its track width, the Jeep Gladiator Mojave trim is essentially identical to the other Gladiator trucks size-wise. Here's a look at its measurements:
Seats: 5
Passenger volume: 103 cubic feet
Length: 218 inches
Width: 73.8 inches
Height: 76.1 inches
Pickup bed length: 60.3 inches
Pickup bed depth: 33.9 inches
Pickup bed capacity: 35.5 cubic feet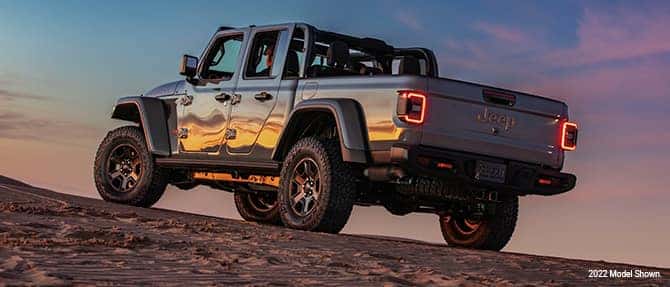 ---
Discover the Jeep Gladiator Mojave Trim at San Antonio CDJR
When we were young, a lot of us took to the sandbox to play with toy trucks. Those toy trucks didn't disappear; they got bigger. The Jeep Gladiator Mojave trim is the grown-up conclusion to our decades-long love of all-terrain trucks. Find our lease deals today, and grab hold of this ultimate ticket to sand-blasting fun at San Antonio CDJR.
Frequently Asked Questions
What is special about the Jeep Gladiator Mojave?
The Jeep Gladiator Mojave trim is the first-ever Desert Rated Jeep vehicle and is incredibly special for its exclusive desert-tuned upgrades. It's built to blast over dunes and treat sand like asphalt. From a rear-locking differential to frame reinforcements, the Gladiator Mojave offers undeniable all-terrain fun and versatility to get the job done once playtime is over.
Is the Jeep Gladiator Mojave better than the Rubicon?
Neither the Gladiator Mojave nor the Gladiator Rubicon trim is better. These two top trims offer similar packages but focus on different off-roading demands. The Gladiator Rubicon is designed for muddy, rocky, and forested trails like the Rubicon Trail, while the Gladiator Mojave is designed for dry, sandy environments like the Mojave Desert. Determine your preference by taking stock of your future adventure plans.
How much is a fully loaded Jeep Gladiator Mojave?
For 2023, the Jeep Gladiator Mojave trim has a starting price of $51,390 MSRP.2 It includes a full package of off-road enhancements, powerful performance specs, interior comfort and convenience features, and so much more. Optional extras will increase the Jeep Gladiator Mojave price; contact our Jeep dealership to build a package with your preferred options and get detailed pricing information.
---
1When properly equipped. See dealer for details.
2MSRP excludes destination, taxes, title and registration fees. Starting at price refers to the base model, optional equipment not included. A more expensive model may be shown. Pricing and offers may change at any time without notification. To get full pricing details, see your dealer.