It's 1:00 a.m. There's a group of grown men screaming as they run down a hallway. Their silky nightcaps are lost in the darkness. Their children are terrified. These automotive executives for competing OEM pickup brands race to the bathroom and splash ice-cold water on their faces because their worst nightmare has just become your ultimate reality. The new Ram TRX is here. Within days of the new year, the 2021 Ram TRX has already picked up the MotorTrend Truck of the Year award. No two ways about it. Truck of the Year is Truck of the Year, but what does that mean for you in San Antonio? Well, the Texas Auto Writers Association has already hailed the new Ram TRX as the "Truck of Texas," the "Full-Size Truck of Texas," and "The Off-Road Truck of Texas." You might wanna get one. What inspired all of this insanity? Maybe the desire to make certain dinosaurs extinct. You take the legendary new Ram 1500 for sale and put it in the shop with a Hellcat engine and a voodoo priest and BAM. The world of performance pickup trucks will never be the same.
The New Dodge Ram Truck
The new Ram TRX is built to go to the extremes. You've got two model trims that will get you there, with a bunch of options packages available to dial in the performance.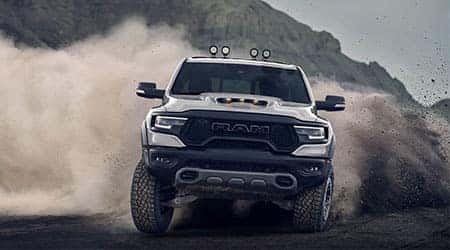 You can select from the:
2021 Ram TRX
2021 Ram TRX Launch Edition
It shouldn't be a surprise that the Launch Edition is already sold out, but the order call has plenty of room for you to sculpt your monster 2021 Ram TRX build just how you want it. Every model boasts the same menacing horsepower thanks to the Dodge Hellcat engine. That 6.2L supercharged performance Dodge HEMI produces 702HP and 650lb-ft of torque, making it the most powerful production street-legal half-ton pickup ever built.1 You've got over a foot of travel in both front and rear remote-reservoir Bilstein suspension. In the event you bottom out while practicing aerial maneuvers, there's enough armor plating underneath to make an MRAP envious. 4×4 is standard. A lightning-quick, eight-speed automatic transmission is also standard. 35"s on Beadlock-ready wheels are also part of the show, and all that power is kept in check by 15" rotors and oversized brakes.
If Looks Could Thrill – RAM TRX For Sale In San Antonio, TX
Your new Ram TRX is going to be a head-turner. Whether you're stopped at a light or passing bystanders at blazing speeds (where it's legal to do so, right?) You can wrap your interior in dust-it-off cloth (in the Ram Rebel TRX package) or date-night capable premium leather. You'll love having 12" of touchscreen infotainment to help you control the beast or set the mood. And if you want, you can load on the options to have temperature-controlled seating, heads-up displays, sport bars, lighting, performance kits, and more. On the outside, you can choose from some stealthy monotone metallic finishes or go big with some loud two-tone color combinations.
In terms of the 2021 Ram TRX price, you can own all that awesomeness for over $70K. You wanna get crazy? We'll be happy to help, and you can build something that will dominate the desert for almost $100K. Can't wait? Check out our Ram 1500 lease deals and at least play "pretend" until your 2021 Ram TRX claws its way out of the depths.
We've never seen anything like this before from our customers. We're getting tons of calls and emails, so we wanted to put together some of the most popular questions and answers to help you out:
Can you order a Ram TRX?
Can you say Dodge brand's performance motor has gone wild? You bet you can order one. Order your 2021 Ram TRX with us here at San Antonio CDJR and kiss boring goodbye. In fact, bring your trade. You'll have fun running over it on your way out.
How much does the 2021 Ram TRX cost?
The 2021 Ram 1500 TRX starts at over $70K. Admittedly, that's about $13K+ over the Ford Raptor. But who cares? Is the Ford Raptor this fast? No. Is the Ford Raptor as powerful? Negative, ghost rider. You get what you pay for. And if you want extra awesomeness, there's a limited run of 702 Launch Editions for a little over $90K.
What is the Dodge Ram TRX package?
Consider it the meteor that will be the extinction event for the Raptor. There are a few different packages available, actually. But the most popular request we're hearing is about the Level 2 group, which includes the Beadlock wheels, panoramic roof, Harmon Kardon audio, and a host of other safety and control devices.
How fast is the Ram TRX?
According to Car and Driver, the Ram TRX gets from 0-60 in 3.7 seconds. ¼ mile times have been clocked at 12.7 seconds and 106 MPH. Of course, we insist you obey all posted street speed limit signs. And then, where there are no speed limit signs (like in Baja, where you might soon be racing), feel free to let us know what field data you come back with.
When will the Ram TRX be available?
Already on sale with orders being taken since the end of 2020, the order call is currently open. Contact us here at San Antonio CDJR to get all the details and build the truck of your dreams. Which is to say, the stuff of other people's nightmares.
Shop The New Ram TRX For Sale at San Antonio CDJR?
We're rolling out the truck of the year, that's what! We're hearing from customers all over Texas, near Austin, and beyond. So give us a call, drop us an email, or sleep outside in a tent until we open the next day. Do what you've got to do, because one thing is for sure: you won't want to miss this truck. If you're looking for a Ram truck dealer, San Antonio is the place to be. Give us a call. Your spot is waiting. But it won't wait forever.