Dodge Challenger Colors: The Best Options In The Market
The Dodge Challenger horsepower is one iconic aspect, and the uniquely wild Dodge Challenger colors are another. This modern muscle car brings heat to every drive and drag strip session. If you got the power, why not flaunt it? That's the mentality that formed the lineup of paint colors. You'll find classic shades, modern sleekness, and many more hues that you won't find on any other muscle coupe. Read on to learn more about the old-school and brand-new colors for a Dodge Challenger.
Dodge Challenger Best Color Options: 1970 to Today
The best Dodge Challenger colors are the ones that inspire a feeling of power; Everyone has their favorite options. But, from this muscle car's creation in 1970 onwards, both top-end horsepower and bold color choices have set the Dodge Challenger apart from the competition.
The iconic sledgehammer-style looks of the first-generation Dodge Challenger were complimented by wild paint hues like Lime Light, Plum Crazy, Panther Pink, Go Mango, and many more great choices. It was a part of the 1969 "High Impact Paint" color program, and the new Dodge Challenger continues to offer playful yet distinctly powerful color options.
Some, like a Stinger Yellow Dodge Challenger, are among the limited-edition choices that stand out as ultra-rare colors, while others, like a TorRed Dodge Challenger, are iconic choices that have been with this model since 1970.
This Golden Age paint-job revival is known as the Dodge Heritage Colors selection, and it's just one part of what makes the new Dodge Challenger so cool.
Your 2022 Lineup of Dodge Challenger Colors
So, what are the exterior options for a new Dodge Challenger? You'll find sweet bits of trim like dual hood stripes, a Shaker hood scoop, and more, but let's look at the attractive and aggressive paint hues that you can find with our Dodge Challenger lease specials:
Black Dodge Challenger color options
As awe-inspiring as the rumble of a Hemi V-8, your Dodge Challenger colors begin with Pitch-Black. This shade complements the classic coupe styling to create a menacing silhouette. It's your choice for a powerfully aggressive look that will have the muscle car competition hiding in the shadows.
White Dodge Challenger color options
Even with a lack of color, the Dodge Challenger colors manage to stand out from the crowd. Choose the aptly-named White Knuckle paint, and your new Dodge Challenger will look cool and composed.
Gray and Silver Dodge Challenger color options
When it comes to gray Dodge Challenger colors, the first is a shade inspired by the result of a V-8 burnout: Smoke Show. Granite will make a modern, muscular impression as a gray option between White Knuckle and Pitch Black. If you're looking for a sleeker display of power, Triple Nickel chisels those body lines as your silver color option.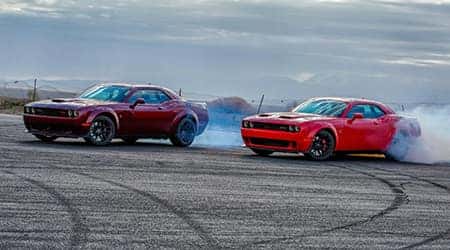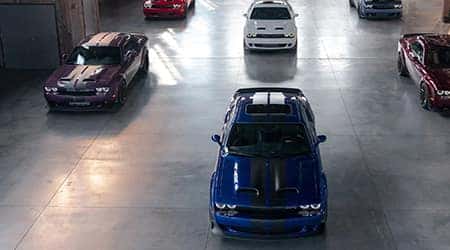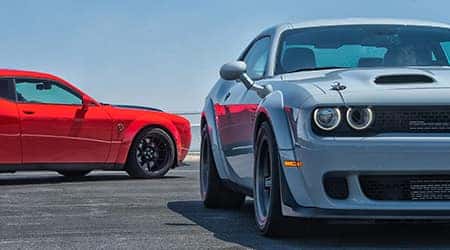 Blue and Baby Blue Dodge Challenger color options
Playful yet powerful, the blue Dodge Challenger colors start with Indigo Blue. This shade is rich, deep, and lustrous, yet as aggressive as the scream of a supercharger. For a classic baby blue shade, Frostbite will draw up a cool flat-pack look inspired by the sheet metal of 1970s V-8 monsters.
Red Dodge Challenger color options
From the 1970 Dodge Challenger T/A to the 2022 Dodge Challenger Hellcat, TorRed has been a downright iconic color choice. That's for an excellent reason. This shade of red is as powerful as, well, the power you'll have on tap. With a deeper shade known as Octane Red, you'll find a sleeker, modern take on that high-octane style.
Orange Dodge Challenger color options
A tribute to the High Impact Paint program, new Dodge Challenger colors include the classic eye-catching Go Mango paint option. It's as sweet as its namesake fruit, yet as spicy as a ghost pepper. Sinamon Stick has a similar sweet/spicy balance to Go Mango, but as a darker orange shade in a sleeker package. With either orange option, standing out from the crowd is easy.
Purple Dodge Challenger color options
Dodge Challenger colors may be playful, but don't be fooled; they're ready to rumble much the same. Embrace that free-spirited power with your purple option: Hellraisin. It's a deep purple that blends temptingly juicy fun with serious business. It's like nothing else out there.
Green Dodge Challenger color options
As a classic callback, F8 Green is ready to transform your Dodge Challenger with an army-like shade of green. It stands out amongst the Dodge Challenger colors with a subtle and eye-popping sparkle.
Discover the Dodge Challenger Colors at San Antonio CDJR
From TorRed to Smoke Show, the wild lineup of colors must be seen in person to be truly appreciated. At our Dodge dealership, we have a great selection of competitively-priced Dodge Challenger models for you to discover with a test drive. Visit us today, and if we don't have your perfectly painted Dodge Challenger in stock, we can help you order it.
Frequently Asked Questions About Dodge Challenger Colors
What colors does the Dodge Challenger come in?
The 2022 Dodge Challenger comes in a range of paint colors, from exclusive modern shades to classic color schemes that embody the history of Dodge muscle cars. The lineup of new Dodge Challenger colors includes Pitch-Black, White Knuckle, Smoke Show, Triple Nickel, Granite, Indigo Blue, Frostbite, TorRed, Octane Red, Go Mango, Sinamon Stick, Hellraisin, and F8 Green.
Does the Dodge Challenger come in purple?
Yes, the 2022 Dodge Challenger comes in purple. Specifically, a new model can come in Hellraisin, a deep, subtle shade of purple. The Dodge Challenger colors have included a purple color choice since the model's inception, and you'll find other purple paint choices like vibrant Plum Crazy. Plum Crazy is also a hallmark color scheme that dates back to 1970.
What are the rarest colors for a Dodge Challenger?
While the rarest Dodge Challenger colors have not been officially confirmed, certain shades new and old stand out as incredibly rare for the model. There are colors released only for limited-edition Dodge Challenger models like Furious Fuschia and Stinger Yellow. Certain old-school model paint colors, like Sassy Grass and Citron Yella, were discontinued after only one year of production and are incredibly rare as a result.