The All New Jeep Gladiator
Few cars are as striking and tough as the Jeep Gladiator, which has a reputation of offering plenty of fun both on and off the road. This Jeep model is a pick-up truck that looks similar to the Wrangler and features its classic ribbed grille and boxy frame. If you want to discover all it offers to drivers in San Antonio, there are a few main facts to discover before you visit our dealership.
New Features
One of the main updates that have been made to the 2021 Jeep Gladiator is the new engine it receives, which packs more power and has better fuel efficiency. It also comes with better off-road capability and better steering to make the truck easier to control. Drivers can also select the diesel engine for even better performance, which stands out for its much-needed low-end torque. The vehicle proves to be quicker and comfortable to drive. It's a full second quicker than similar vehicles in its class and doesn't struggle to have enough passing power. Consumers also have the option of selecting the new Mojave trim level, which packs high-performance suspension and offers off-road capabilities for those who want to use the Gladiator for different types of adventures. Heated front seats, leather upholstery, and a heated steering wheel are optional upgrades if you want to spruce up the cabin with a few luxurious additions.
Highlights
Many people don't expend the interior of the Rubicon to be spacious and roomy. Adult drivers can sit in the front or back without feeling limited on space or feeling like they can't stretch out. The quality materials found in the cabin contribute to how comfortable and upscale the setting feels and looks. Drivers can also utilize AppleCar Play Accessibility makes it easy to continue using the different apps on your phone. Amazon Alexa with Jeep Skill are also convenient and allow drivers to perform voice commands to avoid any distractions while sitting behind the wheel. Remote Vehicle Start Up allows you to warm up the car while you're still in your house. Vehicle Finder is a unique feature that allows you to immediately locate the vehicle when you're in a crowded parking lot or can't find it on a busy street. The infotainment system is easy to use and has simple menu layouts. The buttons and controls are also easy to use without making the dashboard appear cluttered or busy. The doors and panels are also easy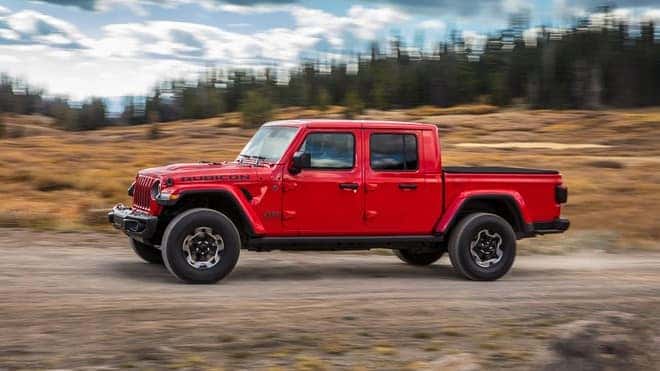 to remove in seconds when you're in the mood for open-air driving. The five-foot bed is large enough to transport different sizes of items, whether you need to haul heavy equipment or tools. The low bed rails are also easy to reach over. You'll also discover that the liftgate can be secured mid-way for added convenience. HD radio, navigation, eight speakers, and two USB ports offer a high level of accommodation to ensure all your needs are met. The vehicle also offers excellent handling and is easy to drive. The car has a good turning radius and is responsive with the advanced brakes it comes with to ensure you have more than enough stopping power while driving at high speeds.
Safety Features
Some of the most in-demand safety features in the industry are available in the Rubicon to offer a high level of protection as you enjoy many types of off-road adventures. Drivers can utilize blind spot monitoring with rear cross path detection to avoid collisions with other cars on the highway. Forward Collision Warning with Active Braking also allow you to have more accountability while operating the vehicle. Lane departure warning system and rear cross path protection are also safety features to utilize. A forward-facing camera offers even more visibility when you're tackling different types of roads and steep inclines. A rearview camera also makes it easier to back up out of parking spots and reduces the risk of hitting anything behind the truck. Rear parking sensors are also convenient to use and will alert you when you get too close to vehicles or pedestrians. Automatic high-beam headlights are also available for those who want to have a better view of the road ahead at night, especially while trekking up steep inclines in the dark where street lights may not be present.
Stop by our San Antonio Jeep dealership today to learn more about what the 2021 Jeep Gladiator offers to drivers in the local area. At San Antonio Jeep, we're here to assist you with a test drive or discuss our financing options available in San Antonio.