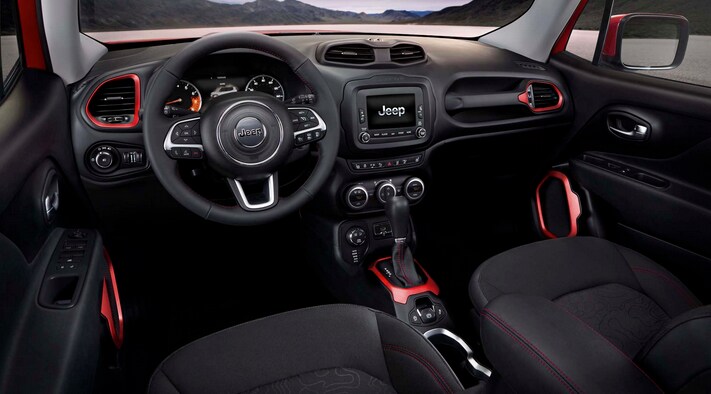 The newest entry in the Jeep lineup has arrived at San Antonio Dodge Chrysler Jeep Ram, and already the newest Jeep is receiving accolades from industry experts! Every year Ward's Automotive puts together a lists of the best engines and best interiors for a given year, the list of best engines came out a few months ago, but just this week they released their list for the "10 Best Interiors of 2015," and low and behold, the new off-road specialized 2015 Jeep Renegade is rubbing shoulders with luxury vehicles for the top spot!
Jeep is certainly no slouch when it comes to their interior designs, but usually the awards for interiors tend to go to more tame auto brands, so the Renegade certainly represents a step in a different direction. Many readers were surprised by the general makeup of the Ward's list, noting a lack of the more cliche luxury sedans, a sign that there's an unprecedented demand for rugged vehicles like the Renegade that offer as much in the way of comfort as they do capability and performance.
The 2015 Jeep Renegade won the editors at Ward's over with its mix of classic Jeep design and modern styling cues from the Fiat -Chrysler designers that contributed to its development. The Renegade features a "tek-tonic" design with plenty of tributes to the classic Jeep look, but what truly set the Renegade apart from the crowd for Ward's was the vibrant color scheme, and along with the stellar driver assistance and entertainment tech features, it's no wonder the Renegade made the top 10!
Come by San Antonio Dodge Chrysler Jeep Ram and take a closer look at the new 2015 Jeep Renegade, take one for a test drive right here in Yukon and learn firsthand what the editors at Ward's loved so much about the new Jeep!