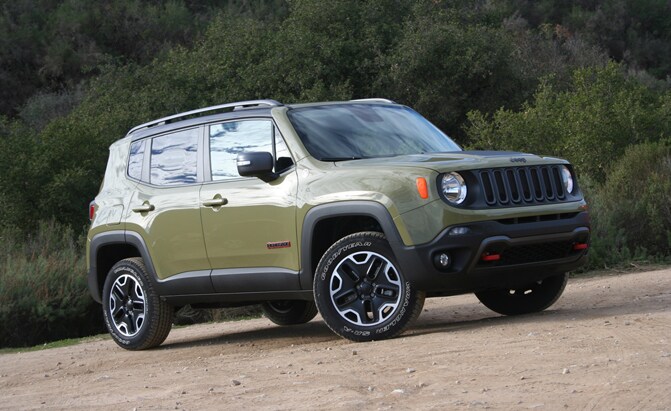 The new 2015 Jeep Renegade is on the way to San Antonio and at San Antonio Dodge Chrysler Jeep Ram we are excited to see what it brings to the Jeep lineup! The Renegade is a branch off from from the regular Jeep model, in fact it will be the smallest Jeep ever as well as Jeep's first crossover. Don't worry, we know for sure that it's going to be trail-rated, just like every Jeep 4x4, so you can be sure that it will be just as tough as any other Jeep model, but what are some of the benefits of Jeep's first crossover?
Crossovers are versatile, and the Renegade is no different, it delivers off road capability with superb on-road handling and now, according to the EPA, some serious fuel efficiency. Everyone expected the Renegade to have higher than average fuel economy, but now we can say for sure that it will be one of the most efficient crossover vehicles on the road today.
The Renegade will have be able to maintain a max fuel economy of up to 30 miles per gallon! Pretty impressive for any crossover, but for a trail rated Jeep that can handle the toughest trails on the planet it's a sign of the Renegade's first-rate engineering and design. With a combined fuel economy of up to 25 mpg, the Renegade really exemplifies the adaptability of the crossover world and it looks like Jeep's first foray into the segment is going to leave an impression that other automakers will have to match.
The new 2015 Jeep Renegade will be arriving soon in San Antonio and it's sure to be a one of a kind model. If you want a vehicle that can keep up with you wherever you go and have you saving at the pump then come by San Antonio Dodge Chrysler Jeep Ram and check out the new 2015 Renegade when it arrives, take it for a test drive to see how the newest Jeep handles the road!