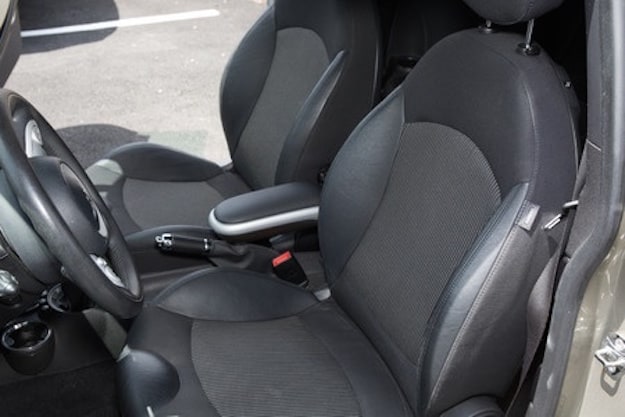 This debate is as old as the automotive industry, and the truth is that both leather and cloth seats have their pros and cons. Here is a brief description of when each is better to have, and why.
Leather Seats
Leather is great due to its relatively long life, and the ability to be easily cleaned if the mess is caught in time. It is used in luxury vehicles due to the relatively high cost of material, and is thus considered to be a symbol of high class. When treated properly, leather seats can outlast the car's steel body. However, there are two great issues with leather seats: maintenance and comfort in extreme environments.
Maintenance
Leather is treated animal skin, making it vulnerable to both humid and arid environments. Appropriate conditioners must be used on a regular basis, or else the material will being to break down.
Comfort
There is a reason why many car owners will turn on their air conditioners and wait outside their vehicles a few minutes during the summer, the leather seats can become so hot that they can burn even protected skin. Winter is less of an issue for human skin, but poses a danger due to the possibility that the low temperatures will leave the leather brittle.
Cloth Seats
This is a favorite for those looking to save money, or those with children! Cloth seats are resistant to extreme temperatures, can be readily cleaned, and have the ability to be easily decorated with off-the-shelf tools.
Stinky and Sticky
Cloth seats soak up whatever is tossed on them, making keeping them spotless a war that is destined for failure. Any family with children or young adults knows the inevitability of soda and chips being spilled, and the sticky oily, concoctions sinking into the seats. Only a seat cover can help keep this problem from rearing its head.
Sensitivity
Cloth can be shredded, burned, stretched, and dyed with reckless abandon. While it is relatively easy to patch cloth seats, it can be difficult to make the repairs look seamless. The best way to avoid any damage is to invest in a cover.
Whether you prefer leather or cloth seats,
San Antonio DCJR
has plenty of options available in stock today! Stop by to see what we have in store for you, and discover whether cloth or leather is better for your driving requirements.