Check Out The New 2022 Jeep Gladiator
The 2022 Jeep Gladiator draws upon its heritage of being a true utility vehicle but brings the nameplate forward in time with a combination of modern technology and old-school ruggedness. The Wrangler in the front and truck in the back design offers the conveniences of both vehicles in a smaller, nimbler package that can tow, handle rough terrain, carry five people, and hold cargo all at the same time without losing power. At San Antonio Dodge Chrysler Jeep Ram, we offer a wide selection of 2022 Jeep Gladiators for you to experience. Meanwhile, here's a look at the 2022 Jeep Gladiator and how it fits multiple facets of your life.
Experience the Strength and Power of the 2022 Jeep Gladiator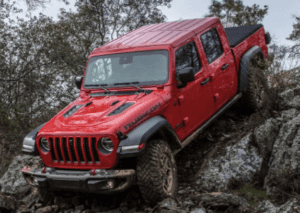 The 2022 Jeep Gladiator is built to take everything that can be thrown at it and ask for more. It features a high-strength body-on-steel frame design, heavy-duty axles, coil suspension in the front and back, and large brakes for maximum stopping power. The all-steel cargo bed has a maximum capacity of 1,700 pounds and features low sides that make it easy to get stuff in and out. The 2022 Jeep Gladiator is capable of towing up to 7,650 pounds, and the frame is designed to handle simultaneous towing and hauling.
For 2022, the Jeep Gladiator features a 3.6-liter Pentastar V-6 engine with DOHC and a 3.0-liter EcoDiesel engine. Both are paired with a 6-speed manual transmission as standard. An 8-speed automatic transmission is available with the diesel engine to handle torque output. The 3.6-liter gasoline-powered engine produces 285 horsepower and 260 lb-ft of torque and gets 16 mpg city and 23 mpg highway. The diesel engine puts out 260 horsepower and 442 lb-ft of torque while achieving 22 mpg city and 28 mpg highway.
How Technology Drives the Interior of the 2022 Jeep Gladiator 
The 2022 Jeep Gladiator features the Uconnect technology suite that aids you in your ownership and operation of the vehicle from almost anywhere. It features the choice of a 7-inch or 8.4-inch touchscreen infotainment system with pinch-and-zoom, the ability to find where you parked your vehicle through a smartphone app, Apple CarPlay and Android Auto connectivity, and voice-activated audio control. The infotainment system can also connect with the Amazon Alexa so you can check in on your Gladiator.

The entry-level Sport package is a no-frills model that comes with little in the way of electronic assistance. Door windows are opened and closed manually, door locks are manual, as is the steering wheel tilt and telescope. The Sport S offers more in the way of conveniences that include remote keyless entry, power door locks, and power windows. The Rubicon trim package delivers more creature comforts in the form of automatic air conditioning, dual-zone HVAC, voice-activated air conditioning, a 120-volt AC power outlet in the bed, a garage door transmitter, and an auto-dimming rear-view mirror.
The trim packages available for the 2022 Jeep Gladiator include:
Sport
Sport S
Overland
Mojave
Rubicon
Altitude
High altitude
Willys
Willys Sport
Overland
Each trim level is designed to deliver a specific driving experience that reflects the needs of its owner. The Rubicon bridges the gap between daily driving and weekend off reading while the Overland has a luxury interior designed for comfort. Meanwhile, the Mojave is designed to handle racing on sand.
Safety is Part of the 2022 Jeep Gladiator's DNA
The 2022 Jeep Gladiator has the iconic features that include the removable roof and doors, but you're as safe as ever with an available windshield made from Corning Gorilla Glass that resists cracks and chips. Other safety features include blind spot monitoring, Parksense rear park assist system, forward collision warning with active braking, and a high-strength steel chassis that's designed to absorb crash energy and protect the occupants.
Come See the 2022 Jeep Gladiator at San Antonio Dodge Chrysler Jeep Ram Today
At San Antonio Dodge Chrysler Jeep Ram, we offer multiple 2022 Jeep Gladiators for you to take on a test drive. Our sales team is ready to help you find the Jeep Gladiator of your dreams so you can take it home today. Check out our inventory online, give us a call and set up an appointment, or stop by our dealership to see what we have on hand.