The Power Of The 2022 Jeep Grand Cherokee
Power is probably the single word that best defines the capabilities of the 2022 Jeep Grand Cherokee. It is the definition of a modern powerhouse and you'll be glad to have it in your garage if you have to haul heavy cargo on a fairly regular basis. The capabilities of your Jeep Grand Cherokee will change based on what engine it has. If you're prioritizing towing capacity, you should seek out the models equipped with the 5.7-liter HEMI V8 engine. Grand Cherokees with that engine provide up to 7,200 pounds of towing capacity. You're also getting 357 horsepower and 390 lb-ft of torque from that engine.
Alternatively, you can also purchase a Grand Cherokee that uses the 3.6-liter Pentastar V6 engine. Units with that engine are still plenty powerful as they provide a towing capacity of 6,200 pounds. They also offer a maximum of 293 horsepower and 260 lb-ft of torque. Lastly, you also have the option of getting a Grand Cherokee model that uses the 2.0-liter I4 DOHC DI Turbo PHEV Engine. The vehicles with that engine provide up to 6,000 pounds of towing capacity along with 375 horsepower and 470 lb-ft of torque. The bottom line is you're getting premium power no matter which version of the 2022 Jeep Grand Cherokee you ultimately decide to get.
An Off-Road Marvel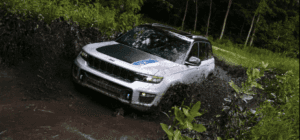 The awesome power of the 2022 Jeep Grand Cherokee is evident in any situation, but it really shines when you use it off-road. Of course, it also helps that this latest version comes loaded with an impressive array of off-road focused features. Explore these features below.
Precise Articulation – Maintaining complete control over your vehicle is a must if you're heading off-road. High level of articulation makes it easy for you to keep the vehicle stable even as you pass over difficult terrain.
Quadra-Lift Suspension – Thanks to this added feature, you can quickly raise the vehicle. This feature will come in handy when having to drive over small bodies of water or flooded areas.
Special Water Seals – The Quadra-Lift Suspension is not the only feature that keeps your new SUV protected from nearby water. Special water seals are also included in the vehicle to keep vital parts safe from floods and similar threats.
4×4 System – This Jeep offering also utilizes the 4×4 system. This allows you to consistently engage the wheels of this SUV no matter the conditions. You won't have trouble gaining traction even on rough terrain.
Prioritizing Your Safety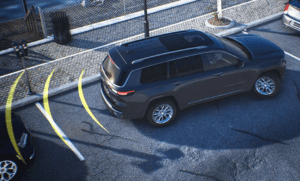 The 2022 Jeep Grand Cherokee puts safety first with various safety features. You can find more about those safety features below.
Driving Assist – The Driving Assist feature can help you avoid accidents. Once the Drive Assist sensors are engaged, they will help determine if the vehicle is positioned properly. Those sensors can quickly make adjustments to ensure that your SUV will remain in a safe spot.
Surround View Camera – No need to worry about blind spots anymore. With the Surround View Camera active, you can easily check out your surroundings. No vehicles will be able to sneak up on you as long as that camera is active.
Intersection Collision Assist – Navigating intersections can be tricky even for experienced drivers. Intersection Collision Assist will make that task easier. If your vehicle senses that a collision could occur, it will provide alerts so you can take the appropriate measures.
Stay safe on the road and off-road by getting the 2022 Jeep Grand Cherokee. Pay a visit to San Antonio CDJR today to experience this impressive SUV for yourself.