The 2021 Dodge Durango is one of Dodge brand's most anticipated vehicles of the new model year. In early 2020, everyone was clamoring to get their hands on even the slightest bit of information regarding the new 2021 model. As more and more information was released, more and more excitement surrounding this model and its release bubbled up in the hearts of Dodge brand fans everywhere. Now that it's officially available for purchase, we're here to give you the gory details of what the 2021 Dodge Durango is all about.
2021 Dodge Durango Trims
The Dodge Durango is already shaping up to be one of the best SUVs of 2021. Don't believe us? J.D. Power's Consumer Report ranked the Durango at an 83 out of 100 for its combined quality & reliability, driving experience, resale value, and dealership experience.1 These rankings weren't made by some far-removed critic who had little to no experience with the car; this 2021 Dodge SUV was ranked by real owners just like you. If that's not enough, check out the eight options that Dodge brand has provided for the 2021 Durango to let you create a driving experience totally unique to you.
Dodge Durango SXT
Dodge Durango SXT Plus
Dodge Durango GT
Dodge Durango GT Plus
Dodge Durango RT
Dodge Durango Citadel
Dodge Durango SRT
Dodge Durango SRT Hellcat
Dominating Protection
From the SXT to the SRT Hellcat, every single trim of the new Dodge Durango for sale is made to dominate the roads and keep you and up to six passengers, as well as everyone's cargo, safe inside its sturdy metal frame. So it dominates and protects, but how exactly does it do both? Let's dive into that a little more.
Power
With a trim name like Hellcat, there's no way the Dodge brand couldn't make this car a beast on the road. Not only does it look like a force to be reckoned with thanks to its race-inspired taillamps and boxy, hulking frame, but it can run with the best of 'em. There's so much to get into it's hard to know where to start
There are four different engine options to consider when thinking about getting a 2021 Dodge Durango. And, on most trims you have your choice of AWD or RWD. Check out the table we've put together outlining the different capabilities of each engine.
Durango Engines & Capabilities
| 3.6L Pentastar V6 | 5.7L HEMI V8 | 6.4L HEMI V8 | Supercharged 6.2L HEMI V8 |
| --- | --- | --- | --- |
| 6,200 lbs. towing capacity | 8,700 lbs. towing capacity | 8,700 lbs. towing capacity | 8,700 lbs. towing capacity |
| 295 horsepower | 360 horsepower | 475 horsepower | 710 horsepower |
| 260 pound-feet of torque | 390 pound-feet of torque | 470 pound-feet of torque | 645 pound-feet of torque |
Now those are numbers that most other in-class vehicles could never even dream of achieving. In fact, the Dodge Durango Hellcat is literally the quickest standard three-row SUV ever to exist.2
Safety and Other Features
In your new Dodge Durango, you'll get a ton of safety, tech, comfort, and attractive design features that you won't be able to live without once you've experienced them. For safety, you have Blind Spot Monitoring, Rain Brake Support, available Advanced Brake Assist, Rain-Sensing windshield wipers, All-Speed Traction Control, and many, many, many more features.
Is comfort a priority for your drive? It is for us, too. The new Durango can help with that! You can arrange your seats in 50+ configurations. That scorching heat in San Antonio won't put a damper on your ride, thanks to the ventilated front seats! There's a luxurious standard second-row center console. You can even fit up to seven people in this car, depending on your trim and configuration. You know how most brands only give you a choice between one or two interior designs (usually only in black or tan)? Upgrade instantly with the new Dodge Durango model's 15 seat swatches in premium cloth, Capri leather, Nappa leather, Laguna leather, or Capri-Suede leather.
Now for tech! You have a seven-inch driver information digital cluster display. Need something a little special for the passengers during the 14-hour road trip? Opt for the nine-inch dual-screen HDMI Blu-ray players! Of course, each trim has the standard connectivity features that you've come to love, like Android Auto and Apple CarPlay. And, like we mentioned, there's a whole lot more that you're just going to have to experience for yourself.
Frequently Asked Questions
When will the 2021 Durango be available?
Can you believe how much time has flown by since the announcement of this vehicle? Depending on the trim you want, you can call us to order yours today! If you want the SRT Hellcat, however, you'll have to wait until early 2021.
How do I order a 2021 Dodge Durango?
While the Dodge company hasn't given us specific dates, they have said that the SRT Hellcat should be available early in 2021. Just another thing to look forward to in the new year! If you want one of the other trims, call us to order yours!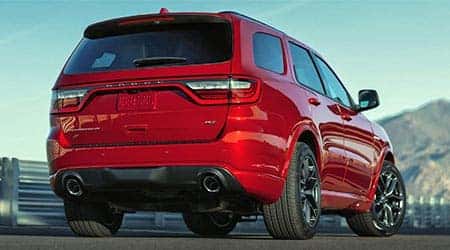 What will the 2021 Dodge Durango look like?
In short, the Dodge Durango looks bad to the bone. It's getting a long-overdue makeover that's borrowing a bit of style from the Charger Widebody and incorporating it into a bigger package. It has many race-inspired features and intimidating looks overall. No one will want to cut you off in Austin traffic!
Visit San Antonio CDJR Near Austin for a 2021 Dodge Durango
Reading all that is exhausting. And to think there are dozens upon dozens of other features and facts we didn't even mention! Maybe you've thought about getting a certified pre-owned Durango before. Maybe you're a long-time Dodge vehicle driver. Or, maybe this is your first foray into the Dodge brand. No matter where you're currently at with Dodge vehicles, we're ready to help you get exactly where you want to be: into the 2021 Dodge Durango. If you want to get one of the trims that are already released, give us a call, and we can get the process started. You're not going to regret getting into this vehicle.